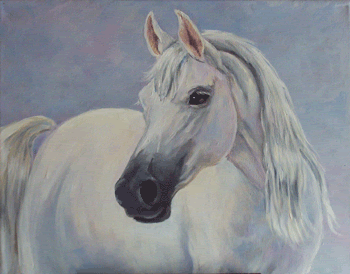 Painting has been sold, thanks for looking...


So many of these amazing creatures have been the subjects of my artwork over the years, but I will never tire of painting them. I love their soft, gentle eyes, their arched necks, muscular bodies. They are works of art in themselves, like sculptures from the very hand of God. I love painting them in different light, seeing how their coats reflect the setting sun, a moonlight run along the water, a fall day. But it is the spirit that really excites me - bold, yet tender, serene but with a passion for living unmatched anywhere in the human realm.
This is a small acrylic, 11 x 14 on Studio Wrapped Canvas. The background is done in the cool blues and lavenders of the dawn. It was listed on eBay Sunday evening, and I would like to dedicate it to all my wonderful customers, those who bought my horses, cats and dogs, as well as the florals, landscapes and seascapes. In the time I have been selling my work online, I have met the most wonderful people from all over the world, who share my love of the awesome world we live in.