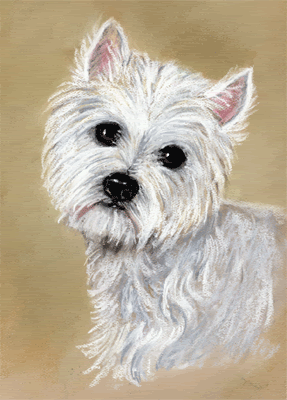 This little West Highland Terrier portrait is on eBay this week. One of my favorite breeds to paint. It is small--11 x 14, and would make a nice little gift for the dog lover on your list. The more I paint dogs, the more I love painting them. There seem to be an infinite variety of them but they all have certain things in common. Number one on the list: the ability to give unconditional love. I have been thinking a lot about unconditional love lately, as well as its source...
It has been a while since I have found the time to sit down and write this blog. Sometimes my life gets so busy I don't have time to think about it, let alone write. Christmas is a busy, crazy time of year. I love decorating, hate shopping, and am a real sap for Christmas movies. Not all of them, of course. Have seen too much of Rudolf and Frosty during my lifetime, but can never get enough of "It's a Wonderful Life," "Miracle on 34th Street" and "A Christmas Carol." I like the one with George C. Scott. Taped it many years ago when we were both much younger. Of course, it has become available on DVD, but for now I will stick with my taped version, complete with IBM commercials starring the cast of M*A*S*H. We were ALL much younger then.
However, there is one Christmas story that will never get old, the original, and as artists always tell you, the original is the best. It captures line, the color, the the heart of the subject like no copy ever could. It was because of a baby, born in a stable in Bethlehem over 2,000 years ago that we celebrate Christmas, it is because of Him we are even having this discussion. Whether we acknowledge Him or not, He is the reason we do all this. Because "God loved the world so much that He gave His only Son," we live like idiots every December. But despite all the craziness that has become Christmas, He is still here, loving, giving. This year, I am going to try to remember Whose birthday it is I celebrate. It will make this season a lot more peaceful.