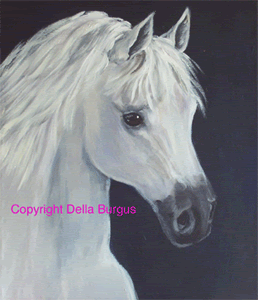 White Passion
I heard recently that if you pursue your passion you will bump into your purpose, but it you look for purpose without passion you will lose them both. Art is my passion, white horses are a passion, as are black, brown, red and spotted ones. Dogs and cats are my passion, and wildlife. Flowers, seascapes and lighthouses. All that should keep me busy for years and years...
This white horse is in acrylic on wrapped, stretched canvas and is available on eBay this week. Back to one of my favorite subjects in a different medium.
It has been a while since I have posted anything new. Computer and personal problems have limited my painting time for a while, but now I am back on track. We have installed a computer with more power and it seems to be working well so far. I don't like to spend more time on computer than in my studio!
Look for more artwork this week and in the weeks to come. More horses, of different colors, dogs, cats, wildlife.....