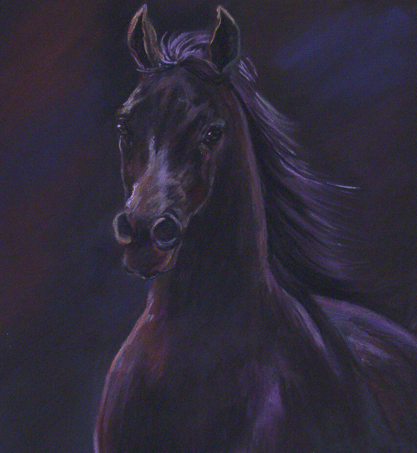 Sold
Beautiful black horses have fascinated and inspired me since I fell in love with Zorro as a child. Reruns of the Disney Zorro on TV I mean, although the movie version with Antonio Bandera was good,too. (I have no idea how to spell his name.) All of this probably dates me, but in my defense, I was a very young child and they were very old reruns. Anyway, the TV Zorro was my hero, but I don't know whether I was more in love with him or his horse.
I chose a dark background just to see what would happen and used backlighting for a dramatic effect. Earlier this year I had tried doing a black cat on black background and really loved the result. For me, one of the greatest joys of being an artist is the element of surprise, you never know what is around the next bend. Sometimes breaking all the rules uncovers a whole new dimension, a new direction to travel. And each new day is the beginning of another journey. I hope you are enjoying the trip.
This pastel painting is being offered on eBay this week. Click on the link to see more.
Black Horse