Hey, if you like getting email, subscribe to my blog. You will receive regular updates and information regarding new work. Just type in your address and you will be added to my mailing list. Click on "preview" to get an idea of how it will look. I will try to blog at least two or three times a week.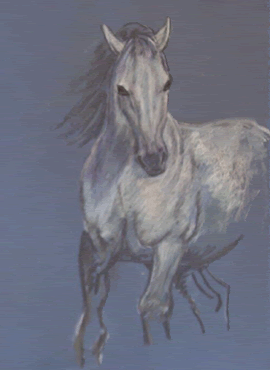 Work in Progress
Commissioned portraits have been keeping me busy over the past few weeks, so my other work has slowed down. But here is the beginning of a large pastel of a white horse. You can see my charcoal drawing, with only a very light layer of color added. I begin with a light touch, building up the layers gradually so that changes in composition or color can be made in the initial stages of the painting. I haven't really decided on the background yet, so if you have any ideas, I would love to hear them. I can't tell you when this will be finished - it depends on how well my commissions go.
Is anybody having spring yet? It has been snowing all day here. I am ready for some sunshine and flowers!