Two new works in progress. You know, you are really special, because I don't often allow people to see my artwork until it is completely finished. I don't leave unfinished works sitting around when I know someone is coming for a visit. But for you, well here is a painting of Kitty dozing under a chair, or I might turn it into a table.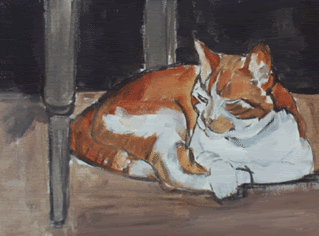 As you can see, I have just begun this one, so don't judge it too harshly yet. It may not be finished until the middle of next week.

And here is a pastel of a Beagle. He will probably be finished tomorrow and listed tomorrow evening.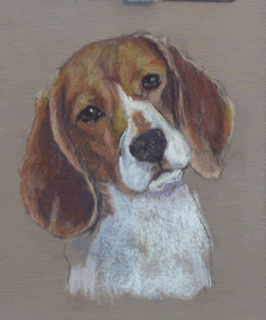 I may show you an update of him later today.
Well, I hope it is warm and dry wherever you are. We had our second big blizzard of the season as well as the second blzzard of the week last Thurs, Fri,Sat, and parts of Sunday. Nice to get them over with all at once. Maybe we can have spring now.
I get to do my taxes this afternoon. Can think of at least a dozen things I would rather be doing. Maybe even hundreds of things. Have a good one!!!!!