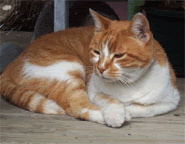 November is the month of giving thanks for our many blessings. To me, one of the most special blessings God has given us is the variety of animals and flowers He has placed on this earth. Imagine what a dull, desolate planet it would be without them! Three of my favorites are pictured here: Barney, our Border Collie mix, Button our little toy Poodle and Kitty. Her name is Sweetie Peach but she answers quicker to Kitty. We also have some beautiful birds whose songs are like morning prayers and evening vespers. They are a little difficult to photograph, but they are also loved.
I have not listed new work in a while because I have been busy with commissioned portraits of other's love ones – both human and animal. I love painting people's loved ones, and especially their pets because they are so expressive and uncomplicated. It is easy to become friends with a cat, dog or horse, just by looking at a picture. You can see the loyalty, love, playfulness and joy in their stance, their faces, and especially in their eyes.
Along with the commissions I am working on some new western paintings. A horse and rider and some Palomino horses. I hope to finish them soon but if not, I may post some Works in Progress on this blog.
Count your blessings today, and give your best "animal buddies" an extra big hug, cuddle or pat from me!